What is the Future of American Manufacturing?
In 1960, over 25% of the US workforce was involved in manufacturing. Now only around 10% of the US workforce is involved in manufacturing. But over that time the share of US manufacturing as a percent of Gross Domestic Product (GDP) has stayed relatively the same, while the US GDP (economy) has significantly grown.
<![if !vml]>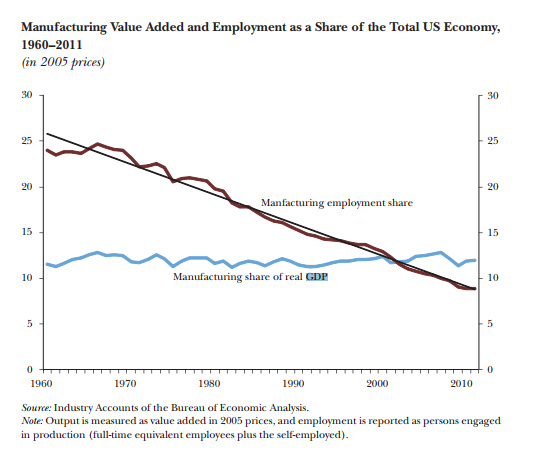 <![endif]>
What does that mean?
It means American manufacturing has had significant productivity gains and will become even more productive - primarily due to automation - requiring fewer workers but delivering increased output. Yes, there has been some offshoring, but these jobs have been primarily of less automated commodity items. In 2016, 27,000 MORE jobs were "re-shored" than were "off-shored" according to The Reshoring Initiative
2000

2016

Workforce

18.3 million

(13.5% of workforce)

12.3 million

(9% of workforce)

Contribution to US Economy

$1.23 trillion

$2.18 trillion
From the Bureau of Economic Analysis and Bureau of Labor and Statistics
So what is the Future of American Manufacturing?
The low skilled monotonous tasks of the past won't exist in the future and will be taken over by robots. But the manufacturing of custom products and other high-end products will only continue to grow. When a product is made for the unique needs of an individual company or person, the manufacturer's margins and market share are protected. The tool that helps make custom products possible on a mass scale – product configurators.
Benefit of Product Configurators

Reasons to Believe

105% Increase in Deal Size

Rules automate upselling to quote all options the customer could use and not just the options the salesperson is familiar with

28.8% Shorter Sales Cycle

Automated approvals for technical and pricing reviews reduce sales cycle

25% Decrease in Costs of Sale

Decreasing the number of technical resources tied to supporting sales process

49% More Quotes

Automated generation of proposal/quote

16% Increase in Win Rate

By getting quotes to customers faster and being more responsive to their requests

40% Reduction in Order Errors

Rules prevent incorrect product configurations

Eliminates Waste in Operations in the

Making of the Product

Eliminates checking and re-checking of product configurations for manufacturability
Statistics from 2013 Aberdeen Group study and a Gartner Research study
If you are interested in how product configurators can help your organization, contact us. We have been implementing product configurators for organizations for over 20 years.
Thanks,
Ben Moore
President
Agent Technologies, Inc.